Debt Management Plan Accepted
Here is a letter showing that it is possible to get a debt collection agency to accept reduced payment  in a debt management plan.In this particular case is the monthly proposal put to them was £4.00 per month.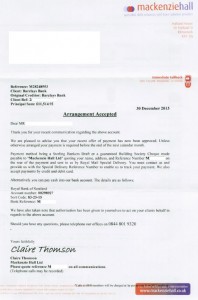 Mackenzie Hall
Specialist Debt Recovery and Trace Solution Provider
Portland House
58 Portland St
Kilmarnock
KA1 1JG
Arrangement Accepted
Dear Mr xxx
Thank you for your recent communication regarding the above account.
We are pleased to advise you that your recent offer of payment has now been approved. Unless otherwise arranged your payment is required before the end of the next calendar month.
Payment method being a Sterling Bankers Draft or a  guaranteed Building Society Cheque made payable to 'Mackenzie Hall' quoting your name, address, and Reference Number Mxxxx on the rear of the payment  and sent to us by Royal Mail Special Delivery. You must contact us and provide us with the Special Delivery Reference Number to enable us to track your payment. We also accept payment by credit card and debit card.
Alternatively you can pay cash into our bank account. The details are as follows;
Royal Bank Of Scotland
Account Number: 000298927
Sort Code: 83-25-15
Bank Reference: Mxxxx
We're also taken note that authorisation has been given to yourselves to act on your client's behalf in regards to the above account.
Should you have any questions, please telephone our offices on  0844 801 99320
Yours faithfully
In this particular situation it may be best to make payment by standing order. This way you know that it is being paid monthly and you are less likely to forget a payment.